We at Unchained At Last held a Chain-In on February 14 in the New York Statehouse to protest child marriage and forced marriage in New York and across the US. We wore bridal gowns and veils, with our arms chained, to send a powerful message to legislators: End child marriage in New York.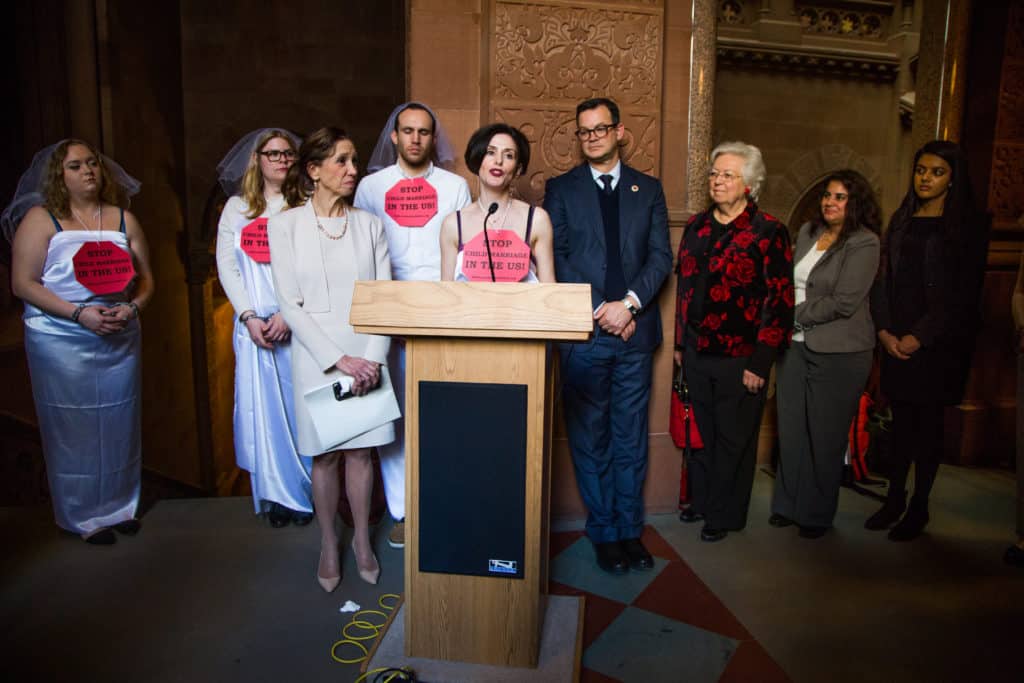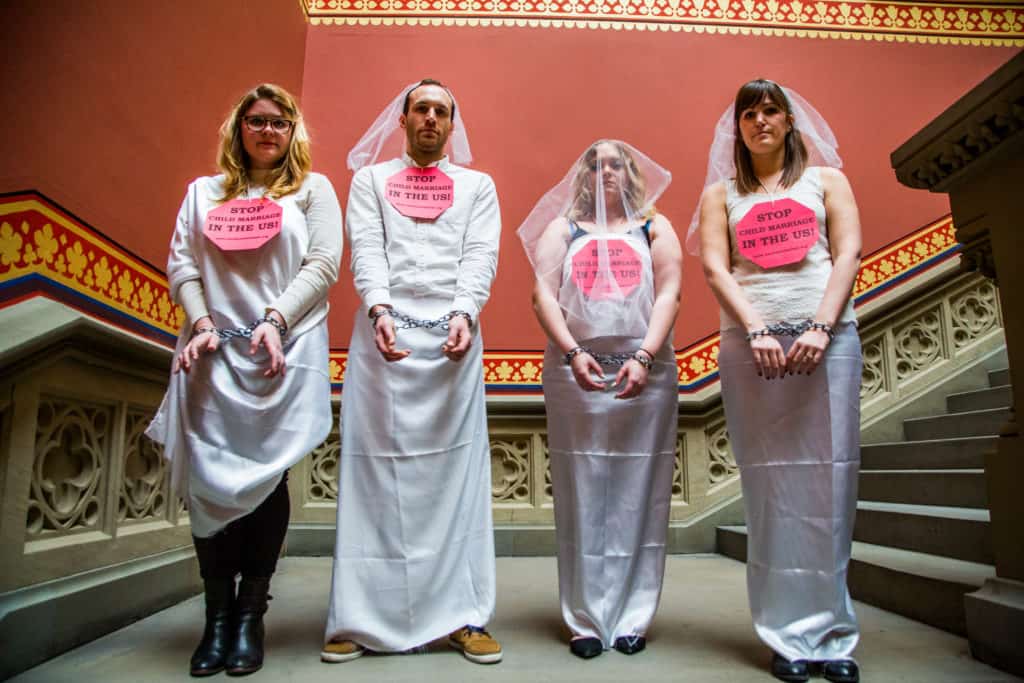 The Chain-In garnered significant media attention, helping to achieve one of its goals: to raise awareness about what used to be a little-known human-rights abuse. Here are just a few of the media stories about the Chain-In:
Unchained is proud and grateful that the survivors, activists and allies who addressed the crowd at the the Chain-In/One Billion Rising event included:
N.Y. Assembly Member Amy Paulin
N.Y. City Council Member Andrew Cohen
Fraidy Reiss, Unchained At Last
Saima Anjam, NYS Coalition Against Domestic Violence
Alexandra Kotowski, Human Rights Watch
Unchained also is proud and grateful that Girls Not Brides granted permission for protesters at the Chain-In/One Billion Rising event to sing "We Are Girls, Not Brides," a haunting song written by girls in Zambia.
Read here about Unchained's other Chain-Ins.
HUMAN-RIGHTS ABUSES
Child marriage – or marriage before age 18 – is a human-rights abuse that undermines girls' health, education and economic opportunities and increases their risk of experiencing violence. Often, too, child marriage is forced marriage: Children can easily be forced into or trapped within a marriage, because they cannot easily access legal and other resources.
Yet marriage before 18 is legal in all 50 U.S. states, and many thousands of children were married in the U.S. in the last decade. In New York alone, more than 3,850 children as young as 14 were married between 2000 and 2010. And forced marriage happens to adults too, but the U.S. has long lagged behind other countries in acknowledging and responding to this human rights abuse.
The solution? Let's start by reserving marriage, a serious legal contract, for those who have reached the age of majority. We Chained-In to grab the attention of policymakers and the public, and make sure lawmakers pass legislation to end child marriage.