Laws to End Child Marriage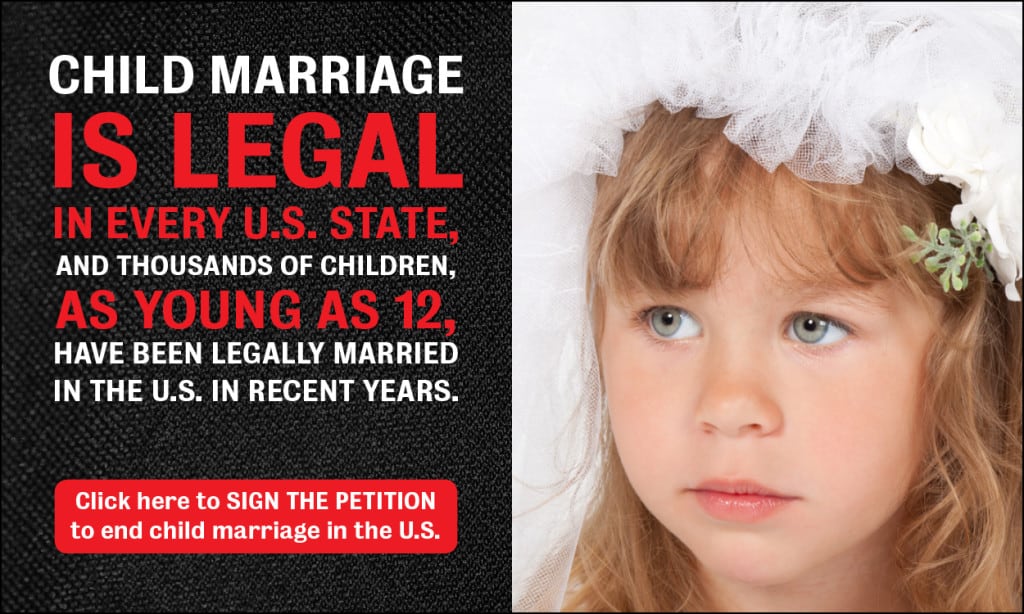 Unchained wrote an op-ed in the New York Times in October 2015 that started a national conversation about America's Child Marriage Problem, and Unchained and allies now are working state by state to end child marriage. Click on the map below to read about Unchained's progress in each state.
CHILD MARRIAGE LEGAL IN EVERY STATE
The minimum marriage age in in most US states is 18. However, every US state allows exceptions under which children – defined by United Nations Convention on the Rights of the Child as those under age 18 – can wed.
– Common exception #1: "Parental consent." In most states, children age 16 or 17 can marry if their parents sign the marriage license application. Obviously, one child's "parental consent" is another child's "parental coercion," but state laws do not call for anyone to ask the children whether they are being pressured into marriage. Even when a girl sobs openly while her parents sign the application and force her into marriage, the clerk has no authority to intervene.
– Common exception #2: Judicial approval. In many states, judicial approval lowers the marriage age below 16, and many states do not specify a minimum age below which a judge may not approve a child marriage. Typically, states allow judges to approve marriages for couples whose ages or age differences should trigger a statutory-rape charge, not a marriage license.
THOUSANDS OF CHILDREN MARRIED
Unchained At Last, which is dedicated to helping women and girls escape arranged/forced marriages, is in the process of retrieving data from all 50 states about the number of children married recently in America. (Tahirih Justice Center has contributed to this project.) The project is not yet complete, but already, the numbers are shocking.
At least tens of thousands of children, as young as age 12, were married in the US in the last decade. Even more shockingly, nearly all the children married were minor girls married to adult men, often at ages or with age differences that are considered statutory rape. Click on the map below to read more.
A GLOBAL PROBLEM
Across the world, like in the US, child marriage and forced marriage disproportionately affect girls and women.
Globally, 88 percent of countries set 18 as the minimum marriage age, but 52 percent of countries allow girl children to marry with "parental consent." As a result, more than 700 million women alive today around the world – and more than one in four young women – were married as children, including some 250 million who wed before 15. Most live in South Asia or sub-Saharan Africa.
But too many live right here in the US.
DANGERS OF CHILD MARRIAGE
The dangers of child marriage are clear:
– Child marriage "undermines girls' health, education and economic opportunities, and increases their risk of experiencing violence."
xxxxxxxx– Child marriage is associated with higher rates of sexually transmitted infections (including HIV) and early pregnancies, because child brides are often unable to negotiate access to safe sex and medical care.
xxxxxxxx– Women who were married as children are at higher risk of a wide range of psychiatric disorders.
xxxxxxxx– Young women who married in their teens are often unable to access education and work opportunities, in part because they tend to have more children, earlier and more closely spaced.
xxxxxxxx– Married minors are more likely to drop out of high school than unmarried minors. Teenage mothers who marry before childbirth are less likely to return to school than teenage mothers who do not marry. Overall, teenage mothers who marry and then divorce are more likely to end up living in poverty, while teenage mothers who stay single have better long-term financial outcomes.
– Those who marry before 18 have a stunning 70 to 80% chance of getting divorced.
– Perhaps most upsetting: Before they reach the age of majority (usually 18), children cannot easily access the resources they need to protect themselves from being forced into marriage or to escape from an abusive marriage. Often they cannot easily access domestic violence shelters, retain an attorney or file a divorce action. Right now, in some states, children can get married but cannot file for divorce.
Consider this: In many US states today, children are allowed to enter a marriage – a legal contract with possible lifelong ramifications – before they are allowed to get a tattoo, buy a cigarette or drink alcohol.
UNCHAINED'S SOLUTION
The solution is simple: Every state legislature must eliminate the exceptions that allow children to marry.
Currently four states are considering legislation to end child marriage. Click on each state below to learn more about child marriage there, including the current laws on child marriage, the number of children married recently (if available) and the status of legislation to end child marriage. States represented in gray are currently considering legislation to end child marriage, and states represented in red already passed such legislation.
YOU CAN HELP END CHILD MARRIAGE IN THE US
Take action. Sign the petition to demand that the every state legislature eliminate the exceptions that allow children to marry.
Click here to contact Unchained about getting a bill introduced in your state to end child marriage.