Chain-In
Trapped. Silenced. That's what life is like every day for the thousands of women and girls in the US who are in or facing forced marriages.
So what better way to raise awareness about forced and child marriage than by gathering a crowd of protesters dressed in bridal gowns and veils, with their arms chained and mouths taped, to sing and chant and wave signs demanding an end to these human rights abuses?
That's the idea behind the Chain-In, a unique form of peaceful but powerful protest that Unchained introduced in 2015.
NEXT CHAIN-IN: TBD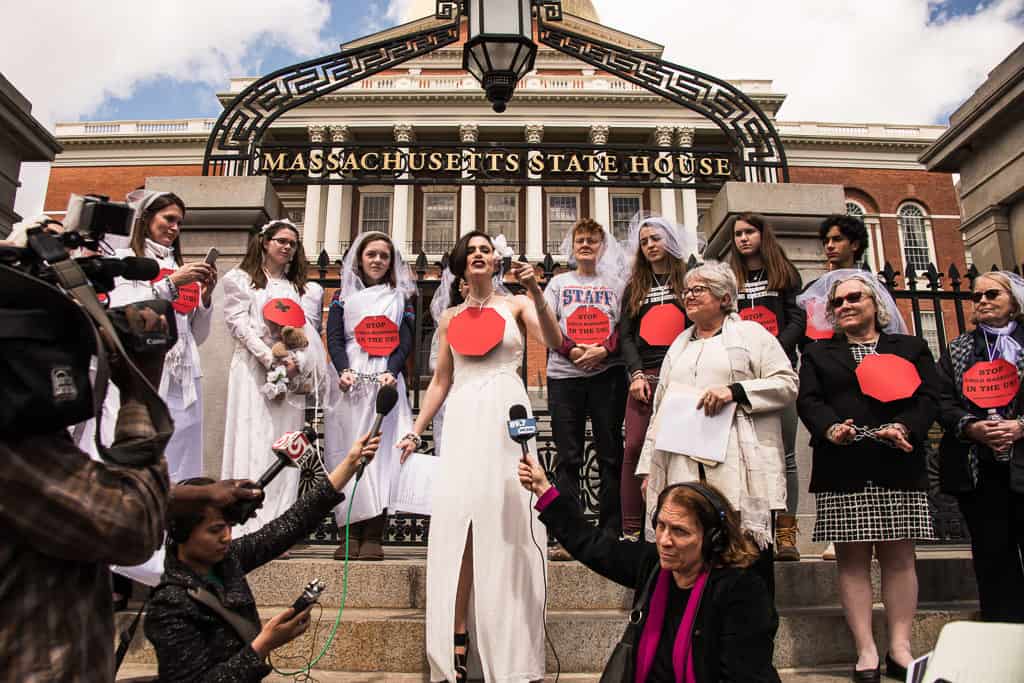 Photo credit: Susan Landmann
Click below to read about past Chain-Ins, and join the Unchained mailing list to be sure you know about future Chain-Ins.
HUMAN-RIGHTS ABUSES
Child marriage – or marriage before age 18 – is a human-rights abuse that undermines girls' health, education and economic opportunities and increases their risk of experiencing violence. Often, too, child marriage is forced marriage: Children can easily be forced into or trapped within a marriage, because they cannot easily access legal and other resources.
Yet child marriage is legal in all 50 U.S. states, and tens of thousands of children were married in the U.S. in the last decade.
And forced marriage happens to adults too, but the U.S. has long lagged behind other countries in acknowledging and responding to this human rights abuse.
HOW YOU CAN HELP
Here's what you can do to help women and girls in the U.S. who are trying to escape or resist forced marriages, and to help stop this human-rights abuse:
Join an upcoming Chain-In, and get your friends to do the same.
Urge your legislators to stop child marriage.
Stay updated on news about forced marriage in the U.S. Join the Unchained mailing list, "like" Unchained on Facebook, and follow Unchained on Twitter.
Volunteer your time to help a woman or a girl who is facing a forced marriage. Unchained relies on the kindness of pro bono attorneys, psychotherapists and others.
Support Unchained financially. Even a small donation makes a huge difference to a woman or a girl fleeing a forced marriage.
CONTACT
Questions about a Chain-In? Want to help organize one in your state? Contact Unchained here.