Leah's Story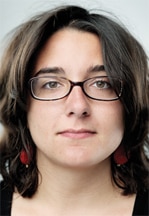 Leah* knew she wanted to leave the husband who beat and raped her and abused their children. She knew she wanted to leave the insular religious community in which her marriage had been arranged when she was a teenager.
But she didn't know how to leave. She was penniless, uneducated and completely alone. Her family and friends had shunned because of her decision to leave; they refused to help her even after Leah was diagnosed with breast cancer.
When Leah reached out to Unchained, she was receiving substandard legal help and was losing her fight for custody of her children. She felt too scared and overwhelmed to focus on fighting her cancer.
Unchained matched Leah with a team of expert matrimonial lawyers who offered their services at no charge. Thanks to their generosity, Leah is on her way to a legal victory — and a medical victory as well.
"Whether I was raped or molested or beaten, no one ever stuck up for me," she told Unchained. "Now someone sees my pain and actually does something about it."
Can you help transform the life of a woman trying to leave an arranged marriage, as Leah's attorneys did for her?
*To protect the privacy of Unchained clients, the photos used on this site are not actual and some details of clients' stories have been changed or omitted.