Zubaida's Story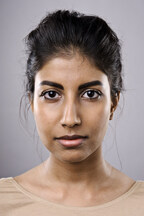 Zubaida thought her life in the US would be wonderful when she was brought here from overseas as part of an arranged marriage to an American man.
It wasn't.
Her in-laws, who lived with her and her new husband, beat and taunted her — particularly after each of her three miscarriages. And after her third miscarriage, Zubaida's mother-in-law knocked her to the ground, where she lay, bleeding. Zubaida's husband finally took her to the hospital for medical attention, but immediately upon her discharge, he announced that she was no longer his wife. He took her to the airport and left her there.
Zubaida was barely strong enough to stand on her own. She spoke very limited English. She did not have a penny with her. She stayed at the airport until her only relative in the US learned where she was and rescued her.
Unchained helped Zubaida rebuild her life. The organization matched her with a volunteer psychotherapist, offered assistance to help her become financially independent — and found Zubaida a team of attorneys who represented her pro bono through her divorce proceeding and got her the financial settlement she deserved.
"When nobody else would help me, you did," Zubaida told Unchained. "I will never forget your kindness."
Help Zubaida and others like her by clicking here.
*At Zubaida's request, her name has been changed and the photo used here is not actually of her.