Gov. Chris Christie did something reprehensible: He conditionally vetoed A3091, the bill we at Unchained helped to write to end child marriage in New Jersey. The bill that passed overwhelmingly in both houses of the legislature. The bill that would have made New Jersey the first state to eliminate a human-rights abuse that primarily affects girls.
This calls for a protest.
We urge you to Chain-In with us in Trenton on Thursday, June 1.  At the same time, we'll coordinate walkouts at high schools across the state, so the children directly affected by Christie's outrageous act can show their displeasure.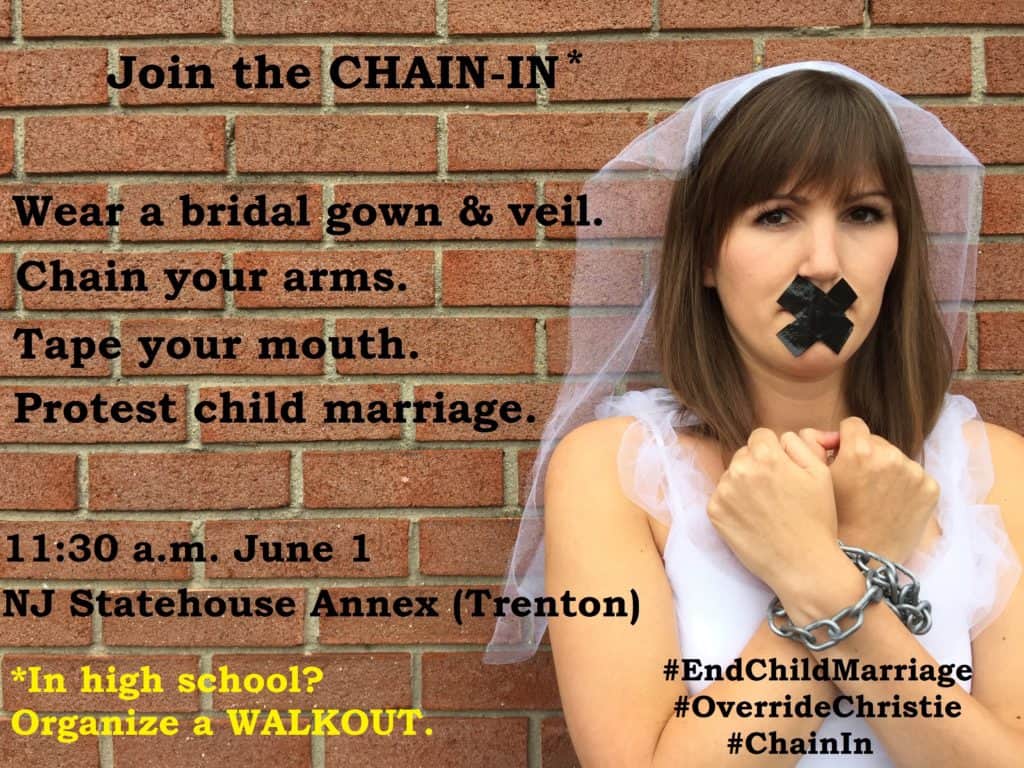 CHAIN-IN
We'll gather outside the New Jersey statehouse wearing bridal gowns and veils, with our arms chained and mouths taped, to protest Christie's love of child marriage. Click here and complete the form on to register for the Chain-In (which is a free event) and to let us know:
Do you want us to provide you with a free gown and veil?
Do you want to reserve a round-trip seat on the bus from Westfield to the Chain-In ($30 per seat)?
Do you want to arrange a bus from your hometown (20-person minimum, at $30 per person)?
WALKOUTS
Click here to contact Unchained about organizing a walkout at your school.
Together, we'll send a powerful message to legislators: #OverrideChristie. End child marriage in New Jersey.
Unchained is grateful that Girls Not Brides granted permission for protesters at the Chain-In to sing "We Are Girls, Not Brides," a haunting song written by girls in Zambia. Click on the image below to watch the girls in Zambia perform "We Are Girls, Not Brides."
HUMAN-RIGHTS ABUSES
Child marriage – or marriage before age 18 – is a human-rights abuse that undermines girls' health, education and economic opportunities and increases their risk of experiencing violence. Often, too, child marriage is forced marriage: Children can easily be forced into or trapped within a marriage, because they cannot easily access legal and other resources.
Yet marriage before 18 is legal in all 50 US states, and many thousands of children were married in the U.S. in the last decade. In New Jersey alone, some 2,000 children as young as 13 were married between 2000 and 2014 – mostly girls wed to adult men. And forced marriage happens to adults too, but the US has long lagged behind other countries in acknowledging and responding to this human rights abuse.
The solution? Unchained started and now leads a growing national movement to end child marriage in the US, state by state, by writing, introducing and passing legislation to eliminate marriage before age 18.
Join the movement. Chain-In with us to grab the attention of policymakers and the public, and help end child marriage in America.
Read more here about Unchained's past Chain-Ins.
CHAIN-IN FAQs
Q: I don't have a bridal gown and veil. What should I do?
A: No problem. Wear a white top, and indicate when you register that you want Unchained to loan you a free veil and a free gown you can wear over your own clothing or instead of it. (You are encouraged to wear a gown and veil regardless of your gender identity.)
Q: I prefer not to wear bridal clothing and/or not to chain my arms or tape my mouth. May I still join the Chain-In?
A: Absolutely!
Q: Should I bring my own chains and tape?
A: No, do not bring your own chains and tape. Unchained will provide free plastic chains and comfortable tape.
Q: Is this legal?
A: Yes, the Chain-In is completely legitimate. Unchained has the backing of the First Amendment and a permit from the New Jersey State Police.
Q: How much does it cost to join the Chain-In?
A: Joining the Chain-In is free – but please consider donating to Unchained to help offset the cost of the Chain-In and to help women and girls across the U.S. who are fleeing forced marriages. If you take the bus Unchained is arranging from Westfield to the Chain-In, the round trip costs $30.
Q: Where is the exact Chain-In location?
A: The Chain-In will be held in front of the Statehouse annex (125 W State Street in Trenton).
Q: What time does the Chain-In begin and end?
A: Please arrive at 11:30 a.m. to sign in and get into Chain-In attire. The actual Chain-In will begin 12 p.m. and end around 1 p.m. (If you take the bus from Westfield, it will leave 10 a.m. from the Westfield train station on North Avenue.)
Q: Will the Chain-In proceed in case of bad weather?
A: The protest will proceed unless officials declare a state of emergency.
Q: How else can I help end child and forced marriage?
A: Whether or not you can join the Chain-In, please take these steps:
Spread the word about the Chain-In by emailing your friends and posting about it on social media using the hashtags #ChainIn, #EndChildMarriage, #OverrideChristie and #A3091. Please tag @UnchainedAtLast in your tweets and posts.
Urge key lawmakers to pass legislation to end child marriage. It's easy to do: Just submit these pre-filled emails.
Support Unchained financially. Even a small donation makes a huge difference to a woman or a girl fleeing a forced marriage.
Stay updated on, and help spread, news about forced marriage in the U.S. Join the Unchained mailing list, "like" Unchained on Facebook, and follow Unchained on Twitter.
Volunteer your time to help a woman or a girl who is facing a forced marriage. Unchained relies on the kindness of pro bono attorneys, psychotherapists and others.
Thank You
This Chain-In is made possible by generous supporters including: