Imagine a crowd of people dressed in bridal gowns and veils, with their arms chained and mouths taped, standing on the steps of the Massachusetts State House to protest child marriage.
Now imagine you're one of them.
Join us at Unchained At Last for our next Chain-In on May 11 in Boston. Be among the survivors, legislators and activists who send a powerful message: Pass S785/H2310, the bill to end child marriage in Massachusetts.
May 11 | 11:30 a.m.
Steps of Mass. State House (Boston)
Gowns, veils, chains and tape provided by Unchained
REGISTRATION IS FREE AND EASY
Speakers include:
Rep. Kay Khan, Massachusetts
Sen. Harriette Chandler, Massachusetts
Amanda Parker, AHA Foundation
Fraidy Reiss, Unchained At Last
Jeanne Smoot, Tahirih Justice Center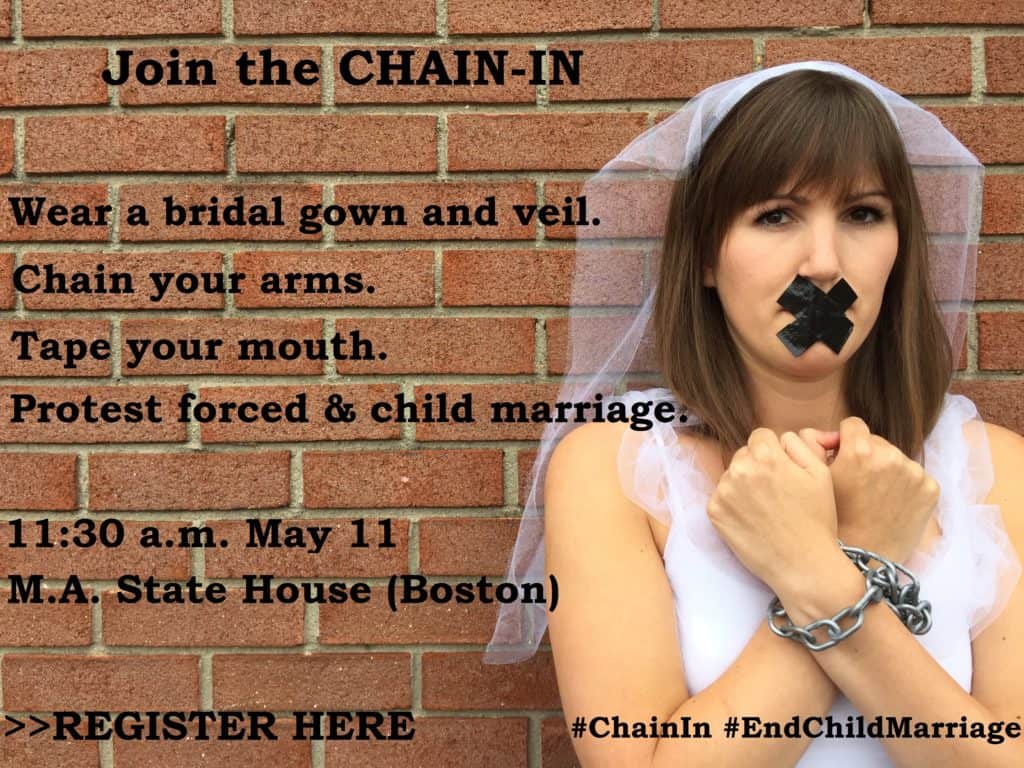 Ending Child Marriage in America
We at Unchained started and now lead a growing national movement to end child marriage in America. We are working to draft, introduce and pass legislation to that effect, state by state.
Currently marriage before 18 is legal in all 50 U.S. states. However, children can easily be forced into marriage or forced to stay in a marriage before they become legal adults, because they face overwhelming legal and practical barriers if they try to leave home, access a shelter, retain an attorney or bring a legal action. Further, the impacts of marriage before 18 on a girl's life are devastating enough that the U.S. State Department considers such marriage a "human rights abuse."
Our groundbreaking research showed an estimated 248,000 children at least as young as 12 were married in the U.S. between 2000 and 2010 – mostly girls wed to adult men.
To build support for legislation to end child marriage, Unchained writes op-eds like the recent one in the Washington Post; hosts Chain-Ins like this one to protest forced and child marriage; gives regular media interviews; and presents at conferences and other venues.
We're seeing progress. Bills we've helped to write and/or are helping to pass, that would end or reduce child marriage, now are pending in:
California
Connecticut
Maryland
Massachusetts
Missouri
New Jersey
New York
Pennsylvania
Texas
You Can Help
You can help end child marriage in America:
Thank You
This Chain-In is made possible by generous supporters including: