Do you have any idea how much we at Unchained At Last accomplished in 2017 to combat forced and child marriage in America, with your help?
Did you follow us in the news?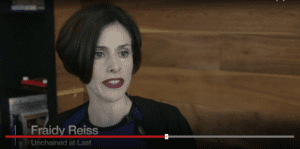 You helped us to focus national and international media attention on child marriage in America. The op-ed article we wrote about child marriage in America, published in the Washington Post in February, grabbed some 1 million hits. It was one of the most-read articles on the WaPo website for a couple of days. And we also wrote op-ed articles for CNN.com, Thomson Reuters, Star-Ledger and Nicholas Kristof's New York Times blog.
Nicholas Kristof shined a spotlight on our work, for the New York Times, Samantha Bee did the same for Full Frontal. We appeared on BBC (radio in January, and television in October), CBS, PBS (online) and Public Radio International.
In December, Forbes named our founder, Fraidy Reiss, one of Five Fearless Female Founders to Follow in 2018.
Did you donate your time, energy or expertise – or furniture or winter coat – to an Unchained client?
You helped us to provide crucial, often life-saving legal and social services – always for free – to more than 175 women and girls to help them flee or resist a forced marriage in America.
One of those women and girls was Mariam (not her real name or photo), whose parents tried to force her into marriage when she was 17. She turned to us for help, but helping her seemed impossible: We could face kidnapping charges if we rescued her, because she was not yet a legal adult, and the domestic-violence shelter in her county refused to accept her for the same reason.
So we coached Mariam to convince her parents to delay the marriage for a few months, until after she graduated from high school and turned 18. During those tense months, Mariam checked in with us daily by texting us an ever-changing code word. We knew what to do if we did not get the right code: Immediately send the police. And as soon as she graduated from high school, we helped Mariam to leave home and move onto a college campus where she is now in her sophomore year, single, safe and happy.
We still check in with Mariam regularly and send her the occasional care package – she has become part of our family – but we no longer need to use a code word.
Did you email your legislators about child marriage or join us at a legislative hearing?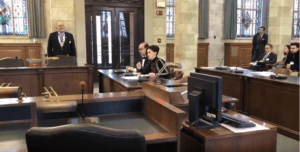 You helped us to expand the growing national movement we started, to end child marriage in America by fighting to pass legislation in all 50 states and at the federal level.
After we shocked the nation with an op-ed article in the New York Times in 2015 showing child marriage was legal in all 50 states, we followed up in February with an op-ed article in the Washington Post that revealed the horrifying extent of America's child-marriage problem: An estimated quarter-million children, at least as young as 10, were married here between 2000 and 2010 – mostly girls to adult men.
We recruited allies, built grassroots support and worked with legislators across the US to expand the national movement this year. We came THIS close to ending child marriage in New Jersey, before Gov. Chris Christie, America's most hated governor, conditionally vetoed the bill in May. We'll try again in the upcoming legislative session, under the new and improved governor there.
We also helped to write and/or promote strong legislation now pending in Florida, Massachusetts, Pennsylvania and Arizona. We're working to improve a bill pending in Ohio. And we helped to write and/or promote strong legislation that flopped in California (where it's been amended into a dangerous bill), New Hampshire (where it was defeated) and Maryland (where it died for the second time and is about to be re-introduced). We tried, unsuccessfully, to improve bills that passed in New York, Connecticut and Texas that limit child marriage but do not end it. And we are working with federal legislators too.
We thank the law firm White & Case for making this important work possible by conducting extensive pro bono legal research. And we thank the lobbying firm Brownstein Hyatt Farber Schreck for taking on this project, at the federal level and in some states, on a pro bono basis.
Did you put on a bridal gown and join us at a Chain-In?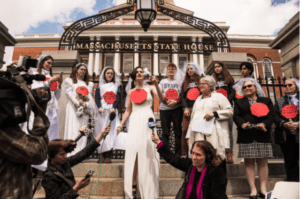 You helped us to organize four Chain-Ins, a unique form of protest we invented, where participants wear bridal gowns and veils, with chains on their wrist and tape on their mouths, to show the world what life looks like for girls in America who are forced to marry.
Some 120 people joined the Chain-In, in three states, drawing significant media attention to the problem of child marriage in America and to the legislation Unchained has written to solve the problem.
Join our e-mail list to be sure you know about Unchained's next Chain-In.
Did you attend a conference or event where we spoke about forced and child marriage in America?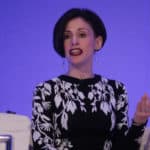 You helped us to reach some 1,660 people at conferences and other events in the US and the UK. The conferences included the global Trust Conference in London, where Reiss shocked the international audience by showing that forced and child marriage are pervasive problems in the US.

Did you root for us and talk about us to friends and family?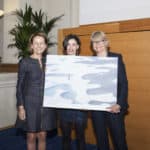 You helped us to win prestigious awards and recognition this year: The TrustLaw Impact Award, presented in London to us and White & Case for our work to end child marriage. Kean University's Outstanding Human Rights Community Activist Award, presented to Reiss. And the United Nations Economic and Social Council granted us special consultative status, giving us access to influence and raise awareness of forced and child marriage among key international decision makers.
Did you support us financially?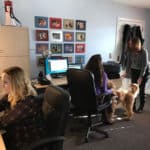 You helped us to raise more than half a million dollars this year and to more than triple the size of our team. We began the year with two employees and 500 volunteers. We head into 2018 with four full-time paid staffers, a puppy named Logan (a service dog in training), two consultants, one part-time staffer and more than 650 volunteers.



Let's Keep Working Together in 2018
Let's keep up our important work. In 2018, let's serve even more women and girls who are fleeing forced marriages. Let's keep expanding the national movement to end child marriage in America, state by state, by introducing even more laws and organizing more Chain-Ins.
Please keep doing what you've been doing:
Email your legislators and governor to urge them to pass legislation to end child marriage (available in states where legislation has been introduced).
Join a Chain-In to protest child marriage.
Stay updated on news about forced and child marriage in the US and help spread it. Make sure you're on the email list, and follow/like/subscribe to Unchained on Facebook, Twitter, Instagram and YouTube.
Volunteer your time to help a woman or a girl who is facing a forced marriage. Unchained relies on the kindness of pro bono attorneys, psychotherapists and others.
Support Unchained financially. A donation of any size makes a big difference to a woman or a girl fleeing a forced marriage.